welcome
40th Anniversary Concert feat. Willie Nelson 11/5/10
Asleep at the Wheel has seen miles and miles of Texas. They got their kicks on Route 66. And, now in 2010, the band clicks another milestone on the odometer – their 40th anniversary. To celebrate, they're performing a special concert Friday, November 5 at the Long Center for the Performing Arts, in Austin, TX.
For one night only, the founding members of Asleep at the Wheel - Lucky Oceans, Leroy Preston and, of course, Ray Benson, will take the stage just across the street from where the band had its first-ever gig after moving to Austin in 1973 at the suggestion of Willie Nelson and Texas Tornado Doug Sahm. The concert also includes appearances by long-time Wheel friends and collaborators: Willie Nelson, Leon Rausch and other special guests including Wheel members from various incarnations over its four-decade history.
"It's been an amazing ride. From Paw Paw to San Francisco to Austin, we've seen it all," says Wheel front man Ray Benson. "We're going to take a night to look back with our friends, former band mates and the people who continue to mean so much to us."
-------------------
The new single is out now! "Truck Driver's Blues (feat. Willie Nelson)" is available now on the brand new release by Asleep at the Wheel and Leon Rausch, "It's A Good Day."
Billboard Magazine
Whether you're a die-hard or casual fan of Asleep at the Wheel, one thing is certain: Everything this act has ever released is simply spectacular. And the veteran western swing band's latest album, "It's a Good Day," is no different. The set casts its spotlight on longtime Bob Wills & His Texas Playboys lead singer Leon Rausch, an icon of the genre in his own right. At 82, Rausch's voice remains supple and remarkably sure-footed as he works out with Benson's troupe on such jazz and swing standards as "Cotton Patch Blues," "Osage Stomp" and "Basin Street Blues." The diamond here is Willie Nelson's collaboration on "Truck Driver's Blues," considered to be country music's first anthem for truckers (written by Ted Daffan and recorded by Cliff Bruner in 1939). The band's familiar swing/boogie "Get Your Kicks (On Route 66)" also takes on new life with Rausch and Asleep at the Wheel vocalist Elizabeth McQueen. As they say on the rural route, there ain't a dud in the bunch.—Wade Jessen

Willie and The Wheel is now available in the EU! Click here to order!
Willie and The Wheel debuts at #4 on the UK Country Charts Link
PopMatters deems Willie and The Wheel the best country album of 2009.
Willie and The Wheel Snags 2 Awards from The9513.com for Texas Artist Of The Year and Best Album Cover. We finished 2nd for Group Of The Year and 3rd for Album Of The Year and Song Of The Year. Willie and The Wheel was nominated for Best Americana Album for the 2010 Grammy Awards.
"Willie and the Wheel" peaked at #90 on the Billboard Top 200 and #13 on the Billboard Country Charts.
Nashville, December 23, 2009. The Americana Music Association announced its year end Top 100 Albums of the Year. The Top 100 albums are based on those records reported during the period of November 17, 2008 through November 16, 2009.
The Top Ten most played albums, as charted on the Americana Airplay Chart are:
1. Buddy & Julie Miller
2. Steve Earle
3. Slaid Cleaves
4. Flatlanders
5. Willie Nelson and Asleep At The Wheel
6. Gourds
7. Tejas Brothers
8. Levon Helm
9. Justin Townes Earle
10. J.J.Cale
The 35th Anniversary Episode of Austin City Limits will feature Willie Nelson and Asleep at the Wheel. The show will start airing nationally the week of November 14, 2009 on PBS. Check your local listings for air time.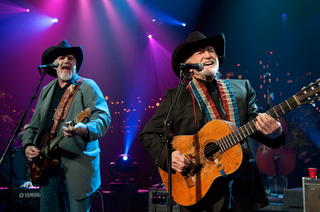 If you would like to view the entire show, please visit our friends over at Austin City Limits.
Click here to go to their website and catch the show.
Our new video for Hesitation Blues is up on CMT.com
Click here to view Hesitation Blues!
"****" - Rolling Stone
"Bright, playful and exploding with verve, 'Willie and the Wheel' is one of the first great albums of 2009." - The Washington Post

"One of the finest albums ever recorded." - Austin Music City
"Record of the year material" - Midwest Record
"...flawless musicianship and brilliant arrangements..." - The News & Observer
"You couldn't make this story up if you wanted to" - Ray Benson
"...pure musical joy..." - CMT
"The set is so authentic that one almost feels guilty listening to it on modern speakers instead of seated around the old Victrola." - Billboard

"Grade A" - Philadelphia Daily News
"With titles like 'Shame On You' and 'Sweet Jennie Lee,' the songs came from the canon of Western Swing, a style born around the same time as Mr. Nelson in Texas -- and one that, in uncertain times, may have a new relevance." - The Wall Street Journal
"I haven't heard a more exhilarating, body-celebrating album this year." - Offbeat Magazine
"Years from now, when exploring either artist's catalog, WATW will stand out as the crown jewel in the latter stages of their careers." - San Diego CityBeat
"'This is the best year ever,' Benson said by phone last week from New Jersey. 'We're here on the road with Willie Nelson, going on tour.' Best year ever, that's major for Benson's Asleep at the Wheel. Since forming in 1972, the Western swing band has won nine Grammy Awards. Despite all the Wheel's Grammy-winning albums, this one rises above." - The Herald Courier
"Both Nelson and Asleep at the Wheel are in prime form on this magnificent effort." - Nashville City Paper
"This is the kind of record that makes people want to become real musicians in a way that today's music doesn't. Five Stars." - The 9513
"Asleep at the Wheel's take on Western swing should be especially interesting to fans of early 20th-century American popular music. Their fidelity to the source material means that traces of jazz swing, ragtime and Dixieland are preserved as if in amber, sounding much as they did in the '30s and '40s." - Washington Times
"Music doesn't get any more fun than this. It's the first must-have album of the year." 30 Days Out
"Willie And The Wheel celebrates a kindred-spirit teaming of Willie Nelson and Asleep At The Wheel that brings out the best in both. It's also a revelation, as horns add a Dixieland feel to some of the arrangements, bringing the music closer to New Orleans than Texas." - No Depression
"This is string-heavy, boot-tapping stuff, music that was once a fixture of dance halls in Tulsa, Fort Worth, and elsewhere. No, western swing certainly ain't dead, as Asleep at the Wheel likes to remind us. In fact, it sounds as lively as ever." - Garden and Gun

"Superb vocals and excellent instrumental backing." - Roughstock
"Nelson's easygoing tenor sounds smoother than ever with by the band's barbershop-quartet-style backing on songs like the opening "Hesitation Blues" and "Corrine Corrina," and when they're not coming together in high harmony, gentle violin swoops and washing pedal steel keep things bucking and shuffling." - Galesburg Register-Mail
"It's hard to listen to the album and not have a smile on your face." - Listen.com

"Four and a Half Stars" - Montreal Gazette
"The album is strong across the board, prompting listeners to tap their toes and sing along with the parts they know. For fans of Nelson, Asleep at the Wheel or simply traditional country and western, Willie and the Wheel is worth a spin. A-" Greencastle Banner-Graphic
"...as comfortable and welcoming as a familiar old leather jacket." - All Music Guide

"The tracks on Willie and The Wheel swing like crazy as Nelson croons over the urgent, jazzy tempos, blazing fiddles, tinkling piano and ever-present steel guitar." - High Country Press
"Asleep at the Wheel has sparked an amazing album of sexy, old-time ragtime tunes, rethought with Texas Swing and New Orleans jazz flavors." - Philadelphia Daily News
"Nelson is obviously in his element and having a ball." - Houston Press
"A marriage made in Heaven." - The Time Union
"Willie Nelson and Asleep At The Wheel delivers an awesome selection of timeless western swing hits that will stand the test of time. Each song paints a picture that will take you to a place and time that has practically become extinct. Five Stars" - About.com
"If you really don't know what you're missing in the Western Swing arena, then this is a great introduction. The sound is accessible and tight, friendly and joyful. Bob Wills is still the king, but Willie And The Wheel brings it all into the 21st century with a keen edge that would make the king proud." - Hybrid Magazine
Jerry Wexler's long-overdue concept album takes Willie Nelson back to his musical roots. Teamed up with Ray Benson and the master musicianship of Asleep at the Wheel, this instant classic celebrates the timeless appeal of a most unique and spirited American music genre. Fall in love with Western Swing...again.

Bismeaux Records is VERY pleased to announce that Willie Nelson and Asleep at the Wheel have teamed up to release an album TODAY. A concept thirty years in the making, Willie & The Wheel is a collection of classic western swing songs hand-picked by the late Jerry Wexler.

"Jerry wanted us to do this album and I'm glad we got to do it for him, "says Willie Nelson. "And that he heard it before he passed on."
Hesitation Blues